THURSDAY, JULY 17, 2014, 10:06 A.M.
Official: Malaysian Plane Shot Down
A Ukrainian official said a passenger plane carrying 295 people was shot down Thursday over a town in the east of the country, and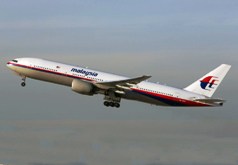 Malaysian Airlines tweeted that it lost contact with one of its flights over Ukrainian airspace. The "Armed Forces of Ukraine did not take action against any airborne targets," Ukraine's president Petro Poroshenko said Thursday. Anton Gerashenko, an adviser to Ukraine's interior minister, said on his Facebook page the plane was flying at an altitude of 10,000 meters (33,000 feet) when it was hit by a missile fired from a Buk launcher. A similar launcher was seen by Associated Press journalists near the eastern Ukrainian town of Snizhne earlier Thursday. The Buk missile system can fire missiles up to an altitude of 22,000 meters (72,000 feet)/Associated Press. More here. (AP file photo shows exact Malaysia Airlines Boeing 777-200 that was shot down)
Thoughts?
---
---