Thu., July 17, 2014, 4:58 p.m.
Peterson, 6 Others Sue GOP Officials
Embattled state GOP Chairman Barry Peterson (pictured in AP file photo) announced today that he and six backers have filed a lawsuit in state district court in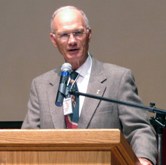 Twin Falls County, challenging the state GOP central committee meeting that's been set for Aug. 2 by petition of several counties' delegations to pick new state party leaders. The lawsuit targets Mike Mathews and Cindy Siddoway, whom Peterson termed "the two party members who illegally issued a call for a special meeting of the State Central Committee while unilaterally declaring that all state party offices were vacant"/Betsy Russell, Eye on Boise. More here.
Question: If the Idaho GOP wants to come back together, someone needs to tell Barry Peterson to go away. Thoughts?
---
---