Thu., July 17, 2014, 8:31 a.m.
Public Forum Set For Chief Finalists
The public will have an opportunity next week to meet the two finalists for Coeur d'Alene police chief. The community forum is Tuesday,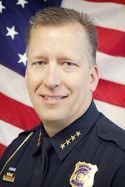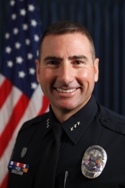 July 22, from 5:30-6:30 p.m. in the Community Room of the Coeur d'Alene Public Library, 702 E. Front Ave. Gary R. Jensen (left), chief of police in Logan, Utah, and Lee R. White, assistant police chief in Mesa, Arizona, will be in town for on-site interviews with the selection committee and to meet the City Council and personnel at the Coeur d'Alene Police Department. Coeur d'Alene Human Resources Director Melissa Tosi said the city hopes to have the chief's position filled in September. During his 21-year police career, White has worked in or supervised nearly every area of police work, making his way through the ranks of the Mesa Police Department from patrol officer to assistant chief. Jensen began his career in law enforcement in 1987 as a deputy sheriff in Utah. As chief of police in Logan, he is responsible for budgets totaling over $10 million and oversees a department of 116 people/Keith Erickson, Coeur d'Alene Today.
Question: What question would you want to ask the police chief finalists?
---
---