Thu., July 17, 2014, 8:20 a.m.
Sheriff IDs 'Nickelback' Flap Deputies
An internal investigation of the Kootenai County Sheriff's deputies who detained two men in June over a potential misunderstanding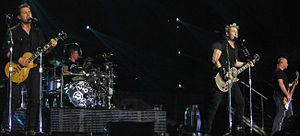 between the words "nickel sack" and "Nickelback" is complete. Dylan Swinford, 23; and Riker Morrow, 22; both of Coeur d'Alene, were detained in the parking lot of Maverik gas station on June 20. A video of the incident, recorded by Morrow, shows the deputies confronting the duo, accusing them of discussing a drug deal involving a "nickel sack" of marijuana when the men say they were actually talking about a rock band. "That guy over there was blasting Nickelback," Swinford told the deputies at the scene. Discussion between the officers, who frequently use profanity, and the two suspects continues. At one point a deputy allegedly draws his weapon on the passenger/Keith Cousins, Coeur d'Alene Press. More here. (Wikipedia photo: 2012 Nickelback in concert in Brisbane)
Also: In a response to a public records request from The Press, Miller released the names of the two deputies involved: Deputy Harvey Ballman and Deputy J. Hyle.
Thoughts?
---
---