Fri., July 18, 2014, 4:30 p.m.
French Dining Superior In Every Way
The chance to spend a few weeks in France this summer provided both the time and the detachment to reflect – on politics, the U.S.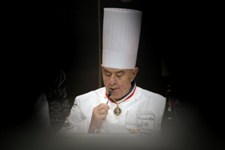 relationship with, as Donald Rumsfeld might say, "old Europe," history, art and, of course, food and the enjoyment of a good lunch or a fine dinner. The richly appointed bistrot Benoit on the Rue Saint Martin in the heart of Paris – the photo is of the main dining room – is one of my favorites. My conclusion after happily eating and drinking my way across Paris: the French way of dining in a nice restaurant is superior in most ways to the same type of experience in the United States and there are at least six reasons for my belief and they have nothing to do with the quality of the food, which is almost universally great/Marc Johnson, The Johnson Post. More here. (AP file photo: French chef Paul Bocuse tastes a dish at the 2013 World Cuisine contest, in Lyon, France)
Question: Do you agree with columnist Johnson that the dining experience in France is superior in every way to that in America?
---
---