FRIDAY, JULY 18, 2014, 12:09 P.M.
Israeli Ground Forces Invade Gaza
Israeli ground forces invaded the Gaza Strip because all other means to stop rocket fire from Palestinian militants had failed, Prime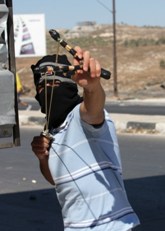 Minister Benjamin Netanyahu said Friday. Hours after Israeli soldiers were ordered into Gaza to destroy tunnels used to smuggle arms into the coastal enclave, the Israeli premier said there was no guarantee of 100% success. But, he added, "We are doing all we can to achieve the utmost." After 10 days of aerial bombardment and a failed Egyptian-sponsored cease-fire, Israel's widening military operation to establish what it described as a new "reality" with the Islamist movement Hamas began at about 10 p.m. local time Thursday/Wall Street Journal. More here. (AP Photo: A Palestinian protester uses a slingshot to shoot a stone towards Israeli soldiers during a demonstration against the Israeli military action in Gaza earlier today)
Question: Do you support/oppose what Israel is doing?
---
---