Mon., July 21, 2014, 5:14 p.m.
Carlson: Campaigning On Your Dime
Governor C. L. "Butch" Otter brought his "dog and pony" show called Capital For A Day to St. Maries on July 21st. My, oh my, how it has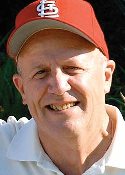 changed since Governor Cecil D. Andrus, who initiated the program in 1973, and I walked the streets of the temporary "capital" (usually a county seat). No entourage. No security detail. No advance team. No "show and tell." No setting up a town hall meeting and expecting the citizens to come to us. Nope. Just Cece and I, popping in and out of various businesses on Main Street, chatting with the owner and asking if they were having any difficult issues with any facet of state government. The day's agenda usually included a noon speech at a Rotary or a Kiwanis Club and in the afternoon drop by visits to the local paper and other media to report on what he was hearing/Chris Carlson, Carlson Chronicles. More here.
Question: Should Gov. Butch Otter suspend the Capital for a Day program until the general election in November?
---
---