Mon., July 21, 2014, 9:13 a.m.
City Official, Ex-Solon Fight Over Dogs
A former state senator and a city councilman came to blows Thursday evening over a dispute involving their dogs. Mike Jorgenson and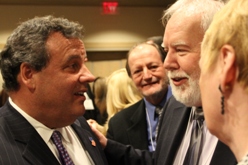 Councilman Ed Graves, who are neighbors, offer conflicting stories on how the physical altercation began. However, the Kootenai County Sheriff's Office was eventually dispatched to sort out the matter. "Based on physical evidence and my observations and interviews, the dispute was physical mutual combat between both parties," the deputy wrote in his incident report. Graves told The Press on Friday that the incident began weeks prior to the physical altercation. "I've been dealing with his dogs barking all night and day," Graves said. "I asked him nicely to contain them so they weren't barking at 4 a.m." According to Graves, Jorgenson called the mayor of Hayden Lake to report that it was Graves' dog that was causing the nuisance. Jorgenson confirms he approached the mayor and told him Graves' dogs are never leashed and constantly go into his yard. That's the one thing the two men agree on/Keith Cousins, Coeur d'Alene Press. More here. (Duane Rasmussen file photo: Former state senator Mike Jorgenson, second from right, talks to New Jersey Gov. Chris Christie at a reception in Coeur d'Alene last fall)
Thoughts?
---
---