Mon., July 21, 2014, 8:14 a.m.
New McEuen Getting Bogged Down
The grassy swale at McEuen Park isn't so grassy these days. According to city spokesman Keith Erickson, the swale area in the grassy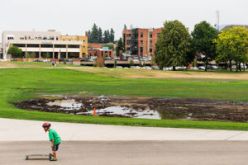 amphitheater area of the park has been perpetually flooded by the new park's irrigation recycling system. The recycle system is located under the Harbor House on the southwest corner of the park. It consists of a 60,000-gallon holding tank that is used to supply the park's sprinkler system. The holding tank is filled two ways: By recycling the water from the splash pad, and when that doesn't provide enough water to feed the sprinkler system, a pump kicks in and fills the 60,000-gallon tank with lake water. Erickson said Team McEuen - consisting of the city, the contractor and the engineering firm that built the park - is still trying to fine-tune the system. "First, we found out the splash pad uses 120,000 gallons a day," Erickson said. "I don't think that much water was anticipated by Team McEuen"/Jeff Selle, Coeur d'Alene Press. More here. (Press photo by Shawn Gust: Kaiden Montgomery, 7, of Coeur d'Alene, prepares to practice a kick start maneuver on his long board Friday. A muddy bog area in the southwest area of the park is a result of the Harbor House holding tank overflowing)
Thoughts?
---
---