Mon., July 21, 2014, 1:12 p.m.
Otter Opposes Idaho Monument
Governor C.L. "Butch" Otter said today that he strongly opposes and will resist any attempt by President Barack Obama to use executive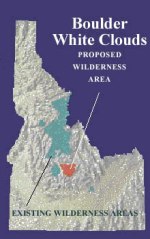 authority under the Antiquities Act to lock up more public land by creating a Boulder-White Clouds national monument. Governor Otter said such unilateral action -- supported by the Democrat challenging Governor Otter in the November election -- would impose additional restrictions on Idahoans' traditional uses of the area. "The President has made no effort to work together on this issue and is considering this decision without Congress or support of the state. He would not only violate the checks and balances instituted as part of our U.S. Constitution to ensure the voices of voters are heard, but he would also undermine existing management agreements on the Sawtooth National Recreation Area. We must not allow a president who has spent no time in Idaho and is focused solely on pleasing environmentalists to dictate how Idaho residents use public lands"/Otter for Governor Campaign press release. More here. (Map: www.wildwhiteclouds.org)
Question: Idaho has shown it doesn't have the will to protect Boulder-White Clouds as a wilderness area, despite the efforts of many key players, like Congressman Mike Simpson. Maybe it's time that President Obama took the decision out of Idaho's hands. Thoughts?
---
---