Mon., July 21, 2014, 8:44 a.m.
Roundabouts Are As Bad As Soccer
Okay Gallup. I give you permission to give me a call and ask me if this country is headed in the right direction or the wrong direction. I've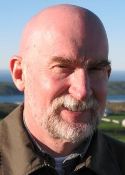 always been willing to give the nation the benefit of the doubt. But now, I'll have to put myself into the wrong direction column. A roundabout? In Asotin County? What is happening to this country? Forget what your history books tell you. When the Pilgrims first set foot on the shores of the New World, they came to escape cruddy European sports, such as soccer. They left everything familiar behind to escape socialized medicine. And they endured a long dangerous trip in tiny, cramped sailing ships to free themselves from traffic circles. And yet, today, one of the last holdouts of American exceptionalism is going forward with a roundabout. Last week, the Asotin County Public Works Director sold the Asotin County Commissioners on the merits of installing a traffic circle on the Fleshman Way interchange where it intersects with State Route 129. The plan calls for not one, but two roundabouts/Michael Costello, Lewiston Tribune. More here.
Question: Do roundabouts annoy you?
---
---