Mon., July 21, 2014, 8:33 a.m.
Should CPD Use Different Protocol?
There's a difference in how law enforcement personnel typically describe officer-involved shootings: People are shot and killed. Dogs and deer are dispatched. In the case of Arfee, a black Lab shot to death July 9 by a Coeur d'Alene police officer, the investigation is being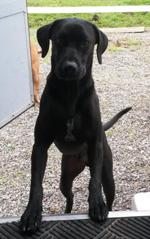 handled much differently than if the officer had fired at a human. Officer-involved "critical incidents" in North Idaho — specifically resulting in injury or death — are investigated according to a protocol established and agreed upon by law enforcement agencies and prosecuting attorneys. This protocol, which touts itself as "vital to the continuing public confidence" in law enforcement agencies, was not used by the Coeur d'Alene Police Department in the matter of the officer's shooting of the dog. "Past practice is this is designed for a person," said Coeur d'Alene Police Sgt. Christie Wood. Instead of asking another agency to investigate, Coeur d'Alene police are investigating for themselves a shooting involving one of their own and then — together with city administrators — establishing a board to review the department's findings/Taryn Thompson, Coeur d'Alene Press. More here.
Question: Should Coeur d'Alene police use protocol reserved for humans in investigating police shooting of black labrador, Arfee?
---
---