Mon., July 21, 2014, 8:58 a.m.
Spokane Boat-Car Gets Makeover
Spokane's famed boat car couldn't get any cooler. That's what I figured, anyway. Little did I know what goes on inside the cranium of my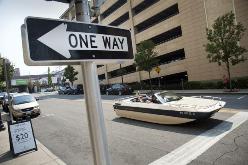 zany friend, Tim Lorentz. "I rebooted LaBoata," he told me on Friday. A serious upgrade was only proper, said Lorentz, considering that 2014 is the fifth anniversary of the most hilarious and joy-evoking vessel to ever navigate our Lilac highways and byways. Chances are you've seen LaBoata cruising the streets of Spokane. Or maybe you read about it years ago, when I introduced the world to this high school teacher and his comic craft. If not, picture the body of a 1976 Apollo speedboat encompassing a 20-year-old Chrysler LeBaron as snug as a coffin covers a corpse/Doug Clark, SR. More here.
Question: Did you ever drive an unusual vehicle?
---
---