Mon., July 21, 2014, 1:59 p.m.
Suspicious Activity Leads To Arrest
From Post Falls Police Department Facebook wall: "A citizen reported suspicious/drug activity at Chase Field. Officers made contact w/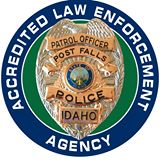 3 females and a male inside a vehicle. The male was subsequently charged with possession and arrested on an outstanding warrant. One of the females was cited for possession of marijuana. This is a great example of how our citizens assist law enforcement by calling in suspicious activity." Post Falls Police Department activities report here.
---
---