Mon., July 21, 2014, 1:07 p.m.
'Tammy': Long Series Of Fat Jokes
Thanks to the likes of Jon Stewart and Stephen Colbert, Margaret Cho and George Carlin, not to mention the late, great Bill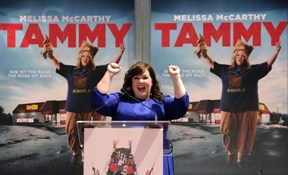 Hicks (NSFW), it's possible to enjoy off-color jokes — otherwise known as politically incorrect humor — because a larger point is being made. In other words, fat jokes — as just one example — aren't just opportunities to laugh at the overweight. They are an opportunity to, maybe, laugh at our overall cultural obsession with looks. Or maybe they're the holding up of a cultural mirror inviting us to reflect on why such nasty humor is appealing. And so on. Except in Melissa McCarthy movies. I've never watched her sitcom, "Mike and Molly," so I can't comment on what happens there. But her movies? "Bridesmaids," which won McCarthy — incredible as it was — an Oscar nomination, showed just how comedically talented the woman is/Dan Webster, SR 7 Blog. More here. (AP file photo)
Question: Why do we poke so much fun at overweight people?
---
---