Mon., July 21, 2014, 4:45 p.m.
UI Player Booted After Theft Charge
Dezmon Epps, who was dismissed from the Idaho football team on Sunday for a violation of team rules, was charged in Moscow with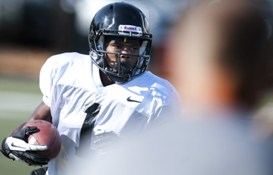 misdemeanor petty theft after allegedly stealing $37.72 in groceries from WinCo Foods. The former Idaho wide receiver pled not guilty on Monday in Latah County District Court and posted a $300 cash bond. He's scheduled for a pretrial hearing on July 29. Epps paid $9.04 for groceries Sunday afternoon at the WinCo supermarket in Moscow, located at 1700 W. Pullman Road, but also stole 10 items totaling $37.72 in value, according to a police report included in court documents. The stolen items included two bottles of Gatorade, sweet rolls, bacon, hash browns, butter, chicken and two packets of Life Savers candy/Josh Wright, SR. More here.
Question: Is the penalty (being booted from the team) greater than the alleged crime (petty theft)?
---
---