Tue., July 22, 2014, 3:07 p.m.
Judge Censured For Rape Sentence
A Montana judge who gave a rapist a 30-day sentence and said the victim shared responsibility for the crime was publicly reprimanded by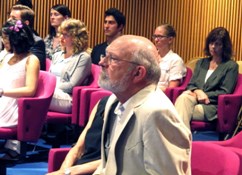 the Montana Supreme Court July 22, the Associated Press reports. District Judge G. Todd Baugh, of Billings, Mont., appeared before the highest court in Montana, where Chief Justice Mike McGrath read a prepared statement of censure—a rare move used to publicly indicate that a judge is guilty of misconduct. But censure is more than a slap on the wrist: Baugh will also be suspended from his bench for 31 days, beginning in December. "We have determined that, through your inappropriate comments, you have eroded public confidence in the judiciary and created an appearance of impropriety in violation of the Montana Code of Judicial Conduct," McGrath said/Harrison Berry, Boise Weekly. More here. (AP photo: Judge G. Todd Baugh listens as Montana Chief Justice Mike McGrath begins censure proceedings against him in Helena, Mont., today)
Question: An appropriate discipline for this sorry jurist?
---
---