Tue., July 22, 2014, 4:17 p.m.
Judge OKs $222K For Gerlach Team
Taxpayers will have to dole out more than $220,000 to defense attorneys and expert witnesses who helped Gail Gerlach (pictured in SR file photo) beat a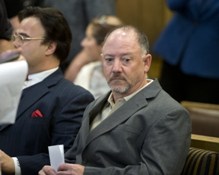 manslaughter charge in an April trial. A jury acquitted Gerlach of criminal wrongdoing after he fired a single shot that struck Brendon Kaluza-Graham in the back of the head. Kaluza-Graham had stolen Gerlach's work van and was driving away when Gerlach, a self-employed plumber, fired his handgun. He claimed self-defense, telling jurors that he believed Kaluza-Graham had a gun. Judge Annette Plese signed an order authorizing payment of $221,574.42 to attorneys Richard Lee and Dave Stevens, as well as expert witnesses Gaylan Warren and Robert Smith. Under Washington state law, the jury's finding of self-defense allows civil damages to be awarded to Gerlach to cover "reasonable" court costs/Kip Hill, SR. More here.
Question: Was the Spokane County prosecutor's office correct in pursuing this case?
---
---