Tue., July 22, 2014, 8:48 a.m.
Judge Sentences, Praises Protesters
An Idaho judge sentenced two dozen gay-rights protesters arrested at the state Capitol this year and offered them this message: "I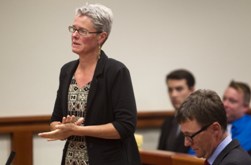 respect your courage in doing what you did." The protesters took part in "Add the 4 Words" demonstrations during this year's session of the Idaho Legislature, standing silently, hands over their mouths, and refusing to leave until lawmakers agreed to hold a hearing on legislation to amend the Idaho Human Rights Act – or until they were arrested. No hearing was held. The protesters want the words "sexual orientation" and "gender identity" added to the types of discrimination banned by the act. Lawmakers have refused to hold a hearing on the proposed legislation for the past nine years. "What I appreciate about the approach you all took is the American tradition of civil disobedience," Magistrate Judge Michael Oths told a packed courtroom. "We all disobey and then we take our consequences"/Betsy Russell, Eye on Boise. More here. (AP/Statesman photo by Kyle Green: Former state Sen. Nicole LeFavour addresses Judge Michael Oths Monday)
Question: Do you expect to see "Add the Words" protests during the 2015 Legislature?
---
---