Tue., July 22, 2014, 9:37 a.m.
Portland Firm Buys White's Boots
White's Boots, one of Spokane's best known "made in America" manufacturing companies, has been sold to a Portland company with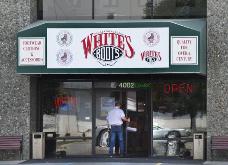 plans to expand production. The purchase price has not been disclosed by LaCrosse Footwear Inc., which sells footwear under the Danner Boots brand. LaCrosse is a subsidiary of Japanese company ABC-Mart Inc. White's Boots opened its Spokane operations 99 years ago, earning customer loyalty and testimonials from celebrities and hardworking laborers. Its boots are pricey. But they are regarded as among the best outdoor footwear available, a classic example of undiluted craftsmanship. The Spokane operation will not lose any of its 110 workers, said Kirk Layton, the chief financial officer for LaCrosse. The goal is to increase the Spokane plant's production and sales/Tom Sowa, SR. More here. (SR photo: Dan Pelle)
Question: Have you ever owned a pair of White's Boots?
---
---