Wed., July 23, 2014, 11:54 a.m.
A Cake In The Spirit Of Aloha
The cake came in the spirit of aloha, a welcoming gesture from a much-loved neighbor to the young family in the new subdivision. The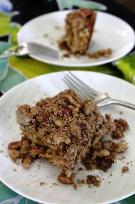 crumbly-topped treat marked the Higdons' move to Kailua. And, like its bearer, it quickly became beloved. More than 60 years later, Aunt Gaynelle's Spanish Coffee Cake continues to serve as a reminder of the kindness of the woman who first shared the favorite recipe. Her gift still gives, spreading aloha – or, love – across an ocean, around a continent and now, finally, to Spokane. "I have given her recipe to all who ask," said Alexis Higdon, who was just 3 when Aunt Gaynelle carried the cinnamony cake across the street. She wasn't really a relative/Adriana Janovich, SR. More here. (SR photo: Top: Alexis Higdon of North Spokane makes this coffee cake every Christmas. But it's good any time of the year)
Question: Do you eat coffee cake at times other than the Christmas holiday?
---
---