Wed., July 23, 2014, 9:18 a.m.
Commenters, Not Cops Out Of Control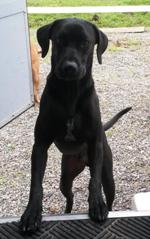 Over the last few weeks, I have read the articles and subsequent comments on several police involved incidents that have grabbed the headlines in North Idaho. From the shooting on the 90 in Post Falls, to the "Nicklebag" incident, to the shooting of the Labrador dog near downtown Cd'A, it seems like everyone has an opinion. Unfortunately, many of the opinions are simple hyperbole, and to summarize too many of the comments, the cops are wrong-headed, out of control criminals who we should fear. Really? Is that your experience, or is that a story you are repeating from a "friend?"/retired police captain Allen Huggins, Coeur d'Alene, Coeur d'Alene Press op-ed column. More here.
Question: Do you agree/disagree with former police captain Huggins that commenters, not police, are out of control re: reaction to recent police incidents, including shooting of black labrador Arfee in Coeur d'Alene?
---
---