Wed., July 23, 2014, 8:13 a.m.
Oath Keeper Shea Gets GOP Pass
Did you know Matt Shea (pictured) was an Oath Keeper? Did you know he likes to sit around with other Oath Keepers – self-declared patriots and apocalyptic prophets – and check out night-vision goggles and talk about guns? That he once pulled a gun on an aggressive motorist he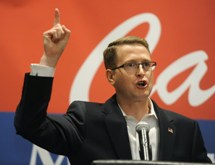 thought was targeting him for his work as a legislator, or that he took creepy photos of himself on his election opponent's property? That his ex-wife, who had a restraining order against him for "assaultive behavior," once testified that Shea envisioned himself as a future president who would be assassinated? That he anticipates the "inevitable" collapse of the economy, and relishes talk about revolution and preparing for the day when you must "stand up to your government"? You didn't? Where have you been? Shea's opponent for a state House seat, Josh Arritola, seems shocked by this old news. He tried to make political hay out of it last week – right as ballots dropped in a primary that both Arritola and Shea will survive. The result was another lively round of Watch Local Republicans Squirm Because They Can't Say Out Loud What They Can't Stop Whispering About Matt Shea/Shawn Vestal, SR. More here. (SR file photo)
Question: Do you view Oath Keepers in a positive/negative light?
---
---