Thu., July 24, 2014, 4:54 p.m.
Update: Nugent Loses 2 More Concerts
The Puyallup Tribe of American Indians in western Washington, following the lead of the Coeur d'Alene Tribe in Idaho, today cancelled two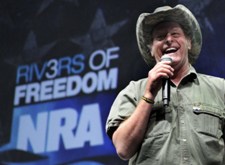 shows by rocker Ted Nugent who is finding himself at the center of a growing controversy over his record of racist and violent rhetoric. "The Ted Nugent shows, scheduled for August 2nd and 3rd at the Emerald Queen Casino, have been cancelled," the tribe announced on the casino's Facebook page without further elaboration. The cancellation, Hatewatch learned, came just a short time before Seattle TV station KOMO was expected to air a segment on the Puyallup tribe booking Nugent for the shows. Puyallup Tribal Council Vice President Lawrence W. LaPointe told local media that the tribe booked Nugent without realizing that he espouses "racist attitudes and views." "The first amendment gives people the right free speech, but I think racism is intolerable and not acceptable here," he said. "We've been getting lots of complaints from the community and other organizations"/Bill Morlin, SPLC HateWatch. More here. (AP file photo)
Also: SR story here.
Question: It appears that a trend is beginning. Thoughts?
---
---