THURSDAY, JULY 24, 2014, 9:19 A.M.
CPD Gets Dog Encounter Training
Recently in Kootenai County there have been law enforcement related dog shooting incidents. Coeur d'Alene Police Chief Ron Clark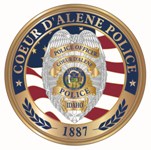 looked into training for officers who encounter dogs while on duty. He found no training is available through the Idaho Peace Officer Standards Academy (POST). In his effort to seek out specialized training he discovered the U.S. Department of Justice has video based training available, which was found to be very informative and useful for police officers in dog encounters. Every officer in the Coeur d'Alene Police Department is currently receiving this mandatory training. "Training law enforcement in dog encounters is crucial" said Chief Clark. "I am not saying officers should compromise safety, but understanding dog behavior and having nonlethal options will reduce the number of lethal incidents that are a tragedy for all involved" Clark said/Sgt. Christie Wood, Coeur d'Alene Police. More here.
Question: A good first step?
---
---