Thu., July 24, 2014, 8:19 a.m.
Huckleberry Stains Source Of Pride
After a two-year hiatus from picking, I recently returned from a huckleberry excursion to the Metaline Falls area. The seat of my jeans was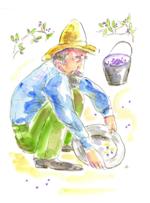 stained purple, I smelled like DEET, I was sunburned and I was so stiff I could barely make it out of the vehicle. I had spent $45 on gas and the truck needed washing, if not repainting. But I had huckleberry butt and a gallon of hard-earned huckleberries – the day was a success! Huckleberry stains are among the worst ever, soaking through jeans and even underwear, but they are an indication of a successful day picking. These butt stains are not as impressive as a tattoo of a three-headed, fire-breathing serpent wrapped around a sailing ship, of course, but they are worn proudly and last about a week. On bare skin, they create an interesting purple pattern that looks like a massive hematoma/Alan Liere, SR. More here. (SR illustration: Molly Quinn)
Question: Have you ever had huckleberry butt?
---
---