THURSDAY, JULY 24, 2014, 8:44 A.M.
Idaho's Death Penalty Unusual, Cruel
For every death row inmate Idaho executes, it has freed another on new evidence while an equal number died of illness - to say nothing of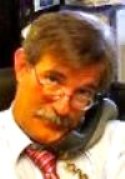 all the condemned people serving out life sentences thanks to successful appeals. What would you call that? Dysfunctional? Random? Since the death penalty was reinstated in the late 1970s, Idaho has condemned 41 people, according to the Death Penalty Information Center. Three have been executed: Keith Eugene Welles in 1994, Paul Ezra Rhoades in 2011 and Richard Leavitt the following year. New evidence exonerated Donald Paradis, who emerged from prison 21 years after he was sentenced to death. Thomas Henry Gibson, Paradis' co-defendant, was released and paroled after an appeals court overturned his conviction/Marty Trillhaase, Lewiston Tribune. More here.
Question: Has the time come to do away with the death penalty?
---
---