Thu., July 24, 2014, 1:49 p.m.
Labrador Drug Bill Gains Support
Bipartisan legislation introduced last year by Idaho 1st District Rep. Raul Labrador and a bipartisan group of senators and representatives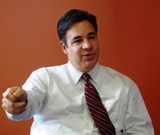 aimed at relaxing harsh 1980s-era federal drug sentencing laws is gaining support in Washington, D.C. The Washington Post editorialized strongly in favor of the measure today, and Labrador reported today that Rep. Paul Ryan, R-Wis., chairman of the House Budget Committee, endorsed the bill today in a speech at the American Enterprise Institute. The measure already is backed by a diverse array of groups ranging from Heritage Action to the ACLU to the American Correctional Association and the NAACP. It would give federal judges more discretion on how they sentence drug offenders who otherwise would be subject to mandatory minimum sentences; and allow inmates already serving the harsh sentences to petition for reductions/Betsy Russell, Eye on Boise. More here. (AP file photo)
Question: I like this legislation. You?
---
---