Thu., July 24, 2014, 10:12 a.m.
Prairie Avenue Widening To Begin
Traffic snarls are ahead on Prairie Avenue. The mile stretch along the busy east-west corridor from Huetter to Meyer will be closed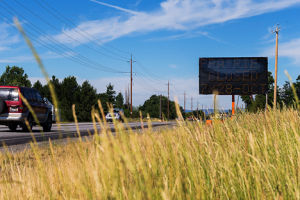 Monday through Oct. 1 as the road is widened from two lanes to five. "Only emergency vehicles and residents in that area will be allowed access," said Lynn Humphreys, chairman of the Post Falls Highway District. "We're trying to create a travel surface that's safer and has easier access across the prairie." One lane in each direction will be open after Oct. 1 until the project is finished late in the fall or next spring, depending on the weather. "Motorists should avoid the area (starting next week), if possible, and should expect delays after Oct. 1," Humphreys said. Hayden Avenue will be the primary detour route during the project/Brian Walker, Coeur d'Alene Press. More here. (Coeur d'Alene Press photo by Shawn Gust: An electronic sign informs motorists of the Prairie Avenue road closure between Huetter Road and Meyer Road beginning Monday and extending into October)
Question: Is the pain of detours and road closures worth the wait in this instance?
---
---