THURSDAY, JULY 24, 2014, 11:01 A.M.
Quotable Quote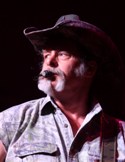 "I take it as a badge of honor that such unclean vermin are upset by me and my positive energy… By all indicators, I don't think they actually qualify as people, but there has always been a lunatic fringe of hateful, rotten, dishonest people that hate happy, successful people" -- rocker Ted Nugent, responding in a Michigan newspaper to critics who want his concert at Oshkosh Saturday canceled. Earlier this week, the Coeur d'Alene Tribe cancelled his concert at the Coeur d'Alene Casino, due to his "racist attitudes and views." (AP file photo, of Ted Nugent)
Question: Is Nugent digging himself a deeper hole re: future concert gigs? Or is all publicity good publicity for controversial rockers and entertainers?
---
---