Thu., July 24, 2014, 9:54 a.m.
Senator: PTSD Made Me Plagiarize
After The New York Times reported that Sen. John Walsh plagiarized at least a quarter of his master's thesis, the Montana Democrat is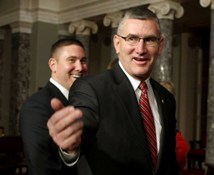 telling The Associated Press that post-traumatic stress disorder may have played a role. "I don't want to blame my mistake on PTSD, but I do want to say it may have been a factor," the Iraq war veteran said. "My head was not in a place very conducive to a classroom and an academic environment." Walsh told the AP that he was on medication at the time and was dealing with the suicide of a fellow veteran. Walsh was appointed to the Senate in February, after Max Baucus resigned to become the U.S. ambassador to China. On Wednesday, the Times published a report that combed through the 14-pages of "The Case for Democracy as a Long Term National Strategy," which Walsh submitted as his final paper to earn his Master of Strategic Studies degree from the United States Army War College/Eyder Peralta, Boise State Public Radio. More here. (AP photo: Sen. John Walsh and his son, Michael)
Question: Among the misdeeds committed by our elected officials, where does plagiarism rank?
---
---