Thu., July 24, 2014, 8:41 a.m.
SR: Protesters Get Hearing, Sorta
The Ada County courtroom where about two dozen "Add the 4 Words" protesters were sentenced Monday was packed. Too bad there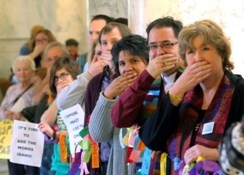 wasn't enough seating for Idaho's legislators. They would have witnessed the hearing they have refused to give gay rights advocates, who want the words "gender identity" and "sexual orientation" added to Idaho's Human Rights Act. They would have heard Magistrate Judge Michael Oths congratulate the demonstrators for their courage. They would have heard Oths fittingly associate them with the American tradition of civil disobedience in the face of injustice. They would have heard pleas from individuals whose families have suffered grievous losses because Idaho law continues to stigmatize gays and lesbians/Spokesman-Review Editorial Board. More here. (AP file photo)
Question: Do you think the 2015 Legislature will grant a hearing to Add the Words protesters & supporters?
---
---