Thu., July 24, 2014, 8:15 a.m.
UI Recruit Gets Scholarship, Loses Dad
When Jaden Gardner received a scholarship offer to play football for the the University of Idaho on June 18, it should have been one of the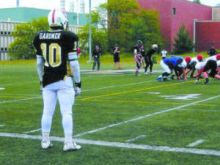 happiest, most thrilling days of his life. Instead, the 16-year-old linebacker was handed a sobering reminder that some things are more important than sports when his father, former Idaho standout Bryson Gardner, suddenly and unexpectedly passed away that very same afternoon. "It as a big honor and was such a crazy day, but for my dad to not be there to experience it with me, it was really hard for me," Jaden said. "My dad had told me he wanted to help me achieve my goals, and when I decided I wanted to play college football, he was right there helping me. For him not being able to be there when I got the offer was very hard."It's a big deal, getting your first offer from a college, but the importance of it was really weighed down. Not having my dad there showed what really matters in life"/Ben Handel, Moscow-Pullman Daily News. More here. (Courtesy photo from Laura Gardner, via Daily News: Jaden Gardner (10) watches from the sidelines while wearing one of his dad's old jerseys during a June 18 football camp at the SprinTurf in Moscow)
Question: Did you lose a parent at a young age?
---
---