Thu., July 24, 2014, 8:50 a.m.
WSU Was Killer's Main Target
Washington State University was alleged Seattle Pacific shooter Aaron Ybarra's primary target, according to his redacted journal,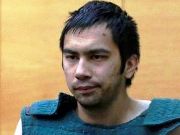 released Tuesday by a King County judge. Ybarra, 26, of Mountlake Terrace, a northern suburb of Seattle, was charged June 10 with the first-degree murder of SPU student Paul Lee, 19, as well as two counts of attempted first-degree murder and one count of second-degree assault. The journal, a nondescript spiral bound notebook, contains a little more than seven pages of writing with less than two weeks of entries, but it reveals the plans — and some of the reasoning — behind Ybarra's alleged actions. "Sometime by the end of this week or the beginning of next week I will reveal how I really feel about humanity, America and the world it's self," he wrote. In a June 2 journal entry, Ybarra wrote, "There are a few universities in the state to choose from that I'm planning to attack. Washington State is the main target"/Shanon Quinn, Moscow-Pullman Daily News. More here.
Thoughts?
---
---