Fri., July 25, 2014, 3:35 p.m.
Edit: Ombudsman Stands By Her Guv
Idaho's new public records ombudswoman grounded into a double play her first time up. Let's hope it's only a blip and not a signal of Gov.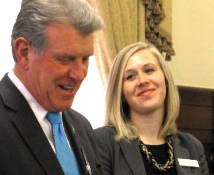 C.L. "Butch" Otter's less than enthusiastic support for transparency. Cally Younger, an attorney for the Otter administration, was named earlier this year the overseer of Idaho's compliance with its own sunshine laws. Younger's appointment came at the behest of Idaho's newspaper publishers — including the Times-News' Travis Quast — who rightly asserted the state could do a better job of adhering to its own freedom of information and access to public records laws. So, to say we were disheartened by the response Idaho Education News received when it asked for the applications of anyone who sought the two recently filled posts on the state Board of Education would be, well, a huge understatement/Twin Falls Times-News Editorial Board. More here. (Eye on Boise file photo: Gov. Butch Otter introduces Cally Younger as the new state ombudsman in April)
Question: Are you concerned re: application-gate?
---
---