Fri., July 25, 2014, 11:54 a.m.
Expert: Nugent Could Take $$$ Hit
Ted Nugent's recent spate of offensive and racist comments that have sparked protests and canceled shows are damaging his image and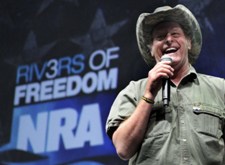 could well cripple his income if he continues, according to veteran concert promoters and industry journalists. In a week when two casinos operated by different Native American tribes canceled three separate Nugent shows set for next month and dozens protested a concert in New Jersey, concert touring experts say the National Rifle Association board member and conservative commentator is doing real damage to his money-earning potential. "If you're going to say something political, you're going to have some backlash, it doesn't matter who you are or what you say," said Larry Magid, a Philadelphia-based promoter who has handled Stevie Wonder, Fleetwood Mac, and Bette Midler/Joe Strupp, Media Matters for America. More here.
Question: What would you do, if you were the person in charge of Nugent's bookings?
---
---