Fri., July 25, 2014, 11:03 a.m.
Peterson: I'm Still In Charge
After two challengers announced campaigns to replace him this week, Idaho GOP Chairman Barry Peterson closed the work week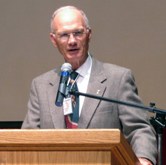 affirming that he's still the boss. In an email Friday morning, Peterson reminded fellow Republicans that the party's Rules Committee held a special meeting to clarify party leadership after the state convention adjourned June 14 without electing officers. "It was confirmed that the Convention Delegates chose to retain the current party officers for an additional two year term until the next convention," Peterson wrote of the June 19 meeting. Peterson said the State Republican Central Committee will decide the matter Aug. 9, a date Peterson chose. The Central Committee will review Rules Committee findings and "the Idaho Republican Party will have resolved all pending issues as related to the status of party leadership," Peterson assured recipients of his email/Dan Popkey, Idaho Statesman. More here. (AP file photo)
Question: I love this guy. Things would be duller in these dog days of summer, if he simply rolled over and let the mainstreamers have their way. Thoughts?
---
---