Fri., July 25, 2014, 10:51 a.m.
Treasurer Crane Defends Record
In his 16 years as Idaho's state treasurer, Ron Crane has built up the state's credit rating, launched a popular college savings program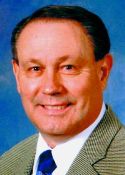 and a free annual control-your-finances conference for women, and helped create a bond bank that lets local school bonds and other local-government debt take advantage of the state's favorable interest rates, potentially saving property taxpayers millions. But he's best known for a series of critical state audit findings over the past five years, the most recent suggesting that Crane made an inappropriate transfer between two funds that cost the state's taxpayers more than $10 million. Crane vigorously disputes the audit finding, contending his office did nothing wrong and made reasonable decisions based on what it knew at the time/Betsy Russell, Eye on Boise. More here.
Question: Are you concerned about Treasurer Crane's record? Or have you locked into the race at all?
---
---