Fri., July 25, 2014, 3:46 p.m.
Watergate Figure Retired In Idaho
Forty years ago on Aug. 9, President Nixon became the only U.S. president to resign. For his role in helping end what President Ford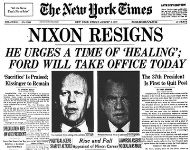 called "our long national nightmare," a Meridian man continues to win praise for his courage. Tom Railsback, an Illinois Republican who spent 16 years in the U.S. House, fell in love with Idaho on golf trips and bought a second home in McCall more than a decade ago. In 2011, Railsback and his wife, Joye, bought a home in Meridian and now share their time between the two residences. Railsback, 82, made history by cobbling the bipartisan coalition on the House Judiciary Committee that prompted the adoption of articles of impeachment against Nixon in late July 1974/Dan Popkey, Idaho Statesman. More here. (Photo: New York Times front page after the Aug. 9, 1974, resignation of President Richard Nixon)
Question: What do you most remember about Watergate?
---
---