Mon., July 28, 2014, 3:23 p.m.
Are Local Police Trained Well Enough?
Recent shootings and other incidents involving local law enforcement officers have some residents wondering whether those sworn "to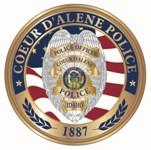 protect and serve" are being properly trained. Two officer-involved shootings in June resulted in 14 local law enforcement officers being placed on administrative leave. Eleven of those officers are with the Coeur d'Alene Police Department, leaving the agency operating 15 percent under normal personnel levels. The fatal shooting of a dog earlier this month by a Coeur d'Alene police officer prompted that agency to initiate mandatory dog encounter training for all officers. Coeur d'Alene resident Jim Ballew worked for 30 years in the California justice system as a trial lawyer and a judge. Ballew said the statistics for officer-involved shootings in the area are "almost unheard of" for a city the size of Coeur d'Alene/Keith Cousins & Brian Walker, Coeur d'Alene Press. More here.
Question: Do you think local police officers are trained properly?
---
---