Mon., July 28, 2014, 11:14 a.m.
Carlson: Reading Tea Leaves
Chris Carlson/The Carlson Chronicle shines a spotlight on a surprise guest at kingmaker Frank Vandersloot's 4th of July celebration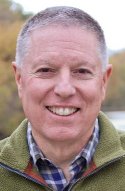 fireworks in Idaho Falls this year: "Vandersloot is justly proud of this event and he often has a special guest. His guest this year not surprisingly was an Idaho gubernatorial candidate. What was surprising was that the guest was neither Tea Party endorsed State Senator Russ Fulcher nor was it incumbent Governor C.L. "Butch" Otter. It was none other than the Democratic nominee, Boise businessman A.J. Bulakoff (pictured). The 'chattering class' as well as the general voting public ought to sit up and take notice for this could portend more than Vandersloot just covering himself in case Bulakoff pulls off the upset. It could signal that the traditional Republican Latter Day Saint vote is starting a seismic shift away from the incumbent governor." Full column here.
Question: What do you make of kingmaker Frank Vandersloot inviting Democratic candidate A.J. Balukoff to his fireworks show?
---
---