Mon., July 28, 2014, 8:39 a.m.
Idaho GOP, Teapublicans Split Sheets
About eight years ago, libertarians, Tea Partiers and people who thought Ron Paul would make a wonderful president married into the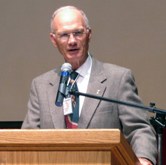 Idaho Republican Party. As with many unions, each side thought it could change the other -- to no avail. So it became a test of wills. A party chairmanship here. A battle over closing the primary election to all but registered Republicans there. Punctuated by ceaseless rounds of bickering during primary election challenges. Then came the equivalent of a wife blowing a fuse while her husband sat through a double-header on their anniversary -- a dysfunctional state convention at Moscow where the spouses couldn't agree on electing a chairman and adopting a platform. So finally, it came. After years of hanging in there for the kids, they're splitting the sheets/Marty Trillhaase, Lewiston Tribune. More here. (AP file photo of former/current GOP chair Barry Peterson)
Question: So, who do you think will get the Mercedes, the keys to the house & the kids -- mainstreamers or Teapublicans?
---
---