Mon., July 28, 2014, 1:52 p.m.
On The Waterfront — 7.28.14
I notice that the city of Coeur d'Alene has installed a plaque acknowledging those involved in the decision making and vote casting that led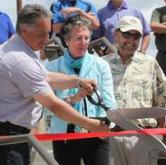 to the giant makeover of McEuen Park, including the mayors and council members who guided the process -- or were in office when the park opened. Right below Mayor Steve Widmyer's name? Councilman Steve Adams. Farther down the list is Councilman Dan Gookin. Adams and Gookin, of course, cast vote after vote against reconstruction of the park -- often joined by Councilman Ron Edinger in a 4-3 minority. We have agreed here that the names of Gookin and Adams belong on the plaque because they served in office during the long battle that included a recall attempt against then mayor Sandi Bloem and three of their colleagues. I still think there should be an asterisk alongside the names of Adams and Gookin -- and possibly Edinger -- explaining that the new McEuen Park wouldn't have happened if they'd had their way. (File photo by Duane Rasmussen: Mayor Steve Widmyer and former mayor Sandi Bloem cut ribbon at McEuen Park dedication while former parks director Doug Eastwood looks on)
Also: Workers were busy today fixing the bog mess at the southwest corner of McEuen Park's large green area, next to the Harbor House. It was the first time in quite awhile that the area was dry.
---
---