Tue., July 29, 2014, 8:23 a.m.
Clark: Etzel's Edsel Has A Heart
Q – What do you call a two-time loser? A – A guy driving an Edsel with a Nixon sticker on the bumper. Eric Etzel spent a good bit of his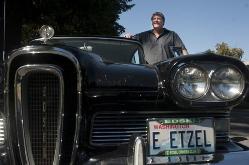 youth trying to figure out why his father, Nat, thought the two-liner above was so funny that he told it over and over and over to just about everyone he met. Born in 1960, Etzel was naturally too young to know anything about presidential politics. Nor could he have known that the Ford Edsel was a flop of epic proportions. (Not to mention that it was considered by some to be one of the homeliest cars in automotive history.) It took until well into his teen years for Etzel to finally appreciate what the Old Man was cracking wise about. Even then he didn't find much worth laughing at, but it did have an impact. Maybe it was the sheer repetition of hearing the word Edsel. But the older Etzel got, the more he wanted one/Doug Clark, SR. More here. (SR photo by Tyler Tjomsland: Eric Etzel poses with his 1958 Edsel on Monday at Underhill Park in Spokane)
Question: Did you ever own an "ugly" car?
---
---