Tue., July 29, 2014, 4:49 p.m.
Malloy: A Reason To Watch Pageant
Don't look at me to handicap the Miss America Pageant in September. I do a lousy enough job picking winners of sporting events and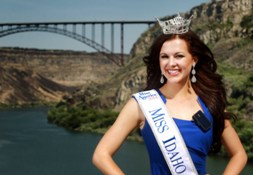 political elections and I can't remember the last time I saw a Miss America Pageant. I will make an exception this year and make a point to watch the competition on television on Sept. 14. And I will go out on a limb and say that Miss Idaho, Sierra Anne Sandison of Twin Falls, has a decent shot at winning. No, she does not hail from the South, or Midwest, which produce long lines of past winners. A Miss Idaho has never won. But Sierra has something that few others have – a compelling story. And all she had to do was walk on stage during the swimsuit competition of the Miss Idaho Pageant with an insulin pump attached to her side/Chuck Malloy, Idaho Statesman. More here. (AP file photo: Miss Idaho Sierra Sandison during a portrait session near Centennial Waterfront Park in Twin Falls)
Question: Do you plan to watch the 2014 Miss America Pageant to see Miss Idaho perform?
---
---