Tue., July 29, 2014, 8:28 a.m.
No 1 Shows For Boys/Girls Club Plan
The public was a no-show Monday at a public hearing held by the Coeur d'Alene School District Board of Trustees. It is unclear if the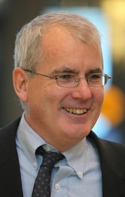 empty chairs at the Midtown Meeting Center were a sign of summer apathy or silent approval of the subject of the hearing: a plan to lease land on the grounds of Lakes Magnet Middle School to the Boys & Girls Club of Kootenai County. Either way, no one showed up to oppose the idea. The only members of the public who attended were Pat Whelan (pictured), chairman of the Boys & Girls Club board, and Ryan Davis, the program's director. "This has been a long and interesting process of trying to find a home for the Boys & Girls Club within the city of Coeur d'Alene," Whelan said. "From our standpoint, we believe the grounds in question are darn near perfect"/Maureen Dolan, Coeur d'Alene Press. More here.
Question: Was the public apathetic? Or did the public simply support the idea?
---
---