Tue., July 29, 2014, 8:41 a.m.
Peterson's Motion To Dismiss Denied
Fifth District Judge Randy Stoker has denied the motion to dismiss Barry Peterson's lawsuit over chairman of the Idaho Republican Party,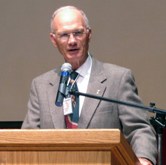 saying he'll instead move to hear the full merits of the case this morning, after a 10-minute break. The judge said he believes state statute cites party rules, so they can be enforced by the court. "I think that this case involves both political questions and questions of whether there has been a statutory and therefore a rule violation," Stoker said. "It's a mixed issue." A 1908 Idaho Supreme Court case involving a fight between competing delegations in the Idaho Democratic Party set the precedent on that, he said/Betsy Russell, Eye on Boise. More here.
Question: Do you have a decent theory why Barry Peterson seems to be hanging onto his position for dear life when he could be blocking unity in the Idaho GOP?
---
---