Wed., July 30, 2014, 8:45 a.m.
200 Turn Out To Back Veterans Home
The need for a local veterans home came across loud and clear Tuesday night. About 200 people packed into American Legion Post 143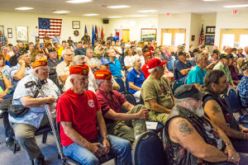 for a meeting conducted by the Idaho Division of Veterans Service and a planning team which is developing a feasibility report for veterans care facilities in the state. "It's very apparent that we have support," Dana Kauffman of Insight Architects told the crowd of veterans, family members and elected officials. Facility proponents, led by former Post Falls Mayor and veteran Clay Larkin, are hoping that an 88-bed home will be constructed in three to five years. The feasibility report is expected to be submitted to the Veterans Administration in Washington, D.C., by April/Brian Walker, Coeur d'Alene Press. More here. (Coeur d'Alene Press photo by Jake Parrish: Veterans turned out to support vets home in Post Falls)
Thoughts?
---
---