Wed., July 30, 2014, 10:43 a.m.
Lilac Ice Cream, Anyone?
Local legend has it that the first lilac bush was planted at a homestead near Hillyard after traveling by trunk from Minnesota in 1882.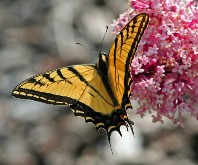 Another story puts the city's first lilacs in the yard of J.J. Browne, a lawyer and developer who planted them in 1906. Whichever the case may be, civic leaders started promoting Spokane as the Lilac City. And this spring, those tiny fragrant purple and white springtime petals inspired Chef Bob Rogers, executive chef at Northern Quest Resort & Casino, to make his own lilac ice cream. He experimented in May, cutting big clusters of lilac blossoms early in the morning, getting them wet, then shaking off the excess water and trimming the stems. He used lilacs that are "the in-between color. Not white but also not very dark"/Adriana Janovich, SR. More here. (Courtesy SR file photo from Blair Becker: A butterfly lands on a lilac bush)
Question: Is lilac ice cream something you'd like to try? Any unusual ice cream flavors you like?
---
---