WEDNESDAY, JULY 30, 2014, 3:23 P.M.
Rusche: Li'l Betsy Casts Long Shadow
JMRusche (RE: Popkey hire leaves Idaho journalism hole): Although there are several good young reporters, the experience and wisdom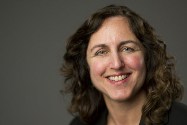 of Popkey and John Miller (formerly of AP) will indeed be missed. I think this is especially true for those living outside the Treasure Valley wanting to know what is going on in State Government. Melissa Davlin is good, but she is only on once a week during the legislative session and is not in a place where she can spend days or weeks digging. Kimberlee Kruesi and Rebecca Boone are good but lack time in grade. Audrey Dutton does well with the Business stuff for the Statesman, but the Statehouse? Betsy Russell may not be that big, but she has to carry an even heavier load now. If anyone knows where to look, it is Betsy. It puts a lot of burden on individuals if they want the facts and not just the political spin from Boise.
Question: Is there any question that my SR bud Betsy Russell is now the top political reporter in the state (if she wasn't before)?
---
---